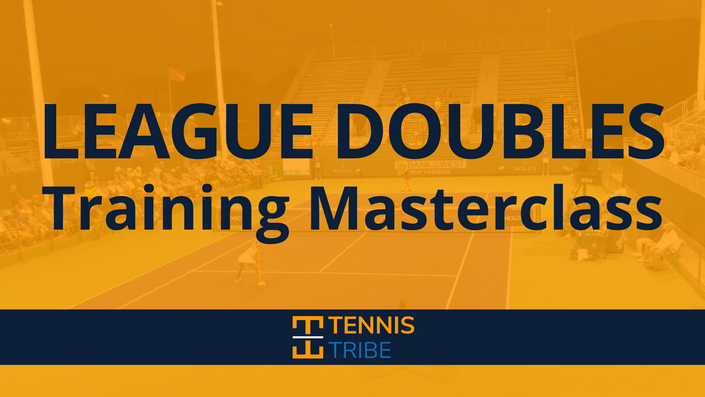 League Doubles Training Masterclass
The ultimate training for league doubles players, teams, & captains. Create smarter game plans for holding serve, return strategy, communication, teamwork, scouting, and every common scenario for 3.0, 3.5, and 4.0 doubles.
Watch Promo
Enroll in Course
Earlier this year, I spoke with several USTA 3.0, 3.5, and 4.0 league doubles teams that qualified for Nationals. Their captains asked me to do Zoom calls with their teams and train them on strategy. I put together a presentation with the best tactics, strategies, and advice I've learned over the past half-decade of studying doubles at every level, interviewing the world's best doubles coaches & players, and playing USTA leagues myself, including going 3-0 at 4.5 Nationals.
I wish you could have been there live, but this is the next best thing... the recorded training calls, unedited, for you to watch, listen, and take your doubles knowledge to the next level.
This doubles training course will totally shift the way you prepare for your next league match.
I just wanted to drop you a quick line and say your tennis presentation was one of the best double videos I've ever seen (and in over half a century of playing tennis I've seen - and paid for - a TON of tennis instruction).
Really really good stuff and I'll take the time to figure out how much I can pay for to support you. As an old club player I often play with a new partner who (usually) is weaker against opponents I've never played against and many of the things you talked about, I already do, but you gave me things I've never thought of - so great, great stuff. Thanks!
- Mike K. | 3.0/3.5 USTA League Player, Florida
"Most club-level doubles teams all play the same way no matter their opponents. This is a big mistake...
If you know what to look for, you can counter your opponent's tendencies & strengths and adjust the right way, which makes winning much easier. I teach and personally use these strategies to beat teams that have bigger serves, better groundstrokes, and more talent by simply outsmarting them."
- Will Boucek, ATP & WTA Doubles Strategy Analyst

This training course has two parts.
In part one, I go through a presentation on the principles of smart doubles, serve strategy, and return strategy. Then, I answer questions from this team of 3.0, 3.5, and 4.0 level players.
Part one alone will help you and your doubles partner play much smarter doubles by disguising your worst shots and exposing your opponents. Once you understand my formula for matching up your strengths against the opponent's weaknesses, winning becomes much easier!
After our first call, the team went out to practice for a few weeks.
In part two, our second call, I cover more questions they had after implementing some of the strategies from the first call. We go over some of the most common scenarios you see in 3.0 to 4.0 level doubles like:
How to win or avoid LOB WARS!
Who should cover the middle?
When to let the overhead bounce
What to do & NOT do with weak 2nd serves
The best ways to warm up with & without a court
Choosing return sides, including real case studies
A dive deeper into some of the topics from part one
Part two also includes more strategy videos from me integrated into the conversation. Since you can't really see the whiteboard during the Zoom call, I re-recorded and added more context to each of these lessons.
Will, thank you again for the great training session! I have been watching the video recordings over and over, more than six times, and I am watching it again today. The more I watch it, the more I learn.
Thank you very much again!
- Enya H. | 3.0 League Doubles Player, Dallas TX
Here is what you will learn

Serve Strategy

Learn how to develop a game plan with your partner that makes holding serve a breeze because you'll finally be working together.
Know what to study from each opponent to find their weakness, including one tip you can use during the warmup to find their weaker return side.
How to use hand signals and communicate with your partner between points so you continue to adjust during the match.
The best times to use different serve formations and the BIG mistake most teams make who use Australian formation! You can actually take advantage of this if you know what to look for.
The same strategies I teach my ATP & WTA clients who play in Wimbledon and the US Open (these work in league doubles too).

Return Strategy

How to read and counter what the serve team wants to do.
Choosing return sides with your partner, including a few complicated and surprising examples.
How to handle a strong 1st serve.
How to handle a WEAK 2nd serve.
When to use the 2-back formation returning.

Common Scenarios & Questions Answered

Who should cover the middle ball? In all 5 scenarios.
How do you win with a weaker partner?
How do you beat a team with one stronger player and one weak player?
What adjustments you should make after losing the 1st set?
How do you avoid playing on the opponent's terms? Especially against pushers?!
If you've never played a team before, what is the best approach?
My recommendations for pre-match warmup, on and off-court.
How to pinpoint your opponent's weaknesses during warmup.
and more...
What does the course include?
22 doubles lessons specifically designed for 3.0, 3.5, & 4.0 level USTA players
Nearly 3 hours of doubles video training content
Examples of doubles points from the ATP & WTA tour, analyzed - and don't worry! you don't have to be as good as them ;)
Written instruction below each training video with images, diagrams, and more
Links to my favorite resources, lessons, and training equipment
A 1-hour Zoom doubles training call with me, you, and your doubles partner or team (Upgraded Package Only)
Bonus! Printable Game Plan Guide that you can fill out with your doubles partner to come up with your primary and secondary strategies for every situation.
Access to me directly! Below each lesson, you can comment with any questions you have about the training, a recent match you played, your doubles partner... ANYTHING. I will personally respond with my best advice, and might even answer in video form.
Lifetime access to the course & all future updates.
30-day money-back guarantee
Hi!
I loved the doubles strategies. I felt like I was pretty ahead compared to a lot of the 4.0s on the team I play when it comes to doubles, but it was mainly just on limited positioning, but after reading your advice I feel there are tons of opportunities. I know a lot more about things to plan and strategize between points whereas before that was very limited. I'm also very timid at net, so this was incredibly helpful.
Thanks for all you do.
- Abe G. | USTA 4.0 doubles player, Des Moines Iowa
Who is the course for?
League doubles players & teams - USTA/NTPR level 3.0 and up or UTR level 2.0+
USTA League Captains who want the knowledge and training to feel confident in their best doubles pairings to help their team win.
Players who don't really understand strategy because most coaches don't teach it.
Doubles players who want to know how to adjust to playing with different partners and how to beat any type of opponent.
Players who want to become smarter on the court and play more efficiently.
Who This Course Is NOT For
This type of training isn't for everyone. If any of the following describe you, then this is probably not a good fit.
You're a complete beginner at tennis and don't have the fundamental shots down yet.
You're primarily a singles player, and not interested in doubles.
You want help with technique - adding pace to your serve, or fixing your backhand (I do not teach technique in this course, only strategy & tactics)
Your Instructor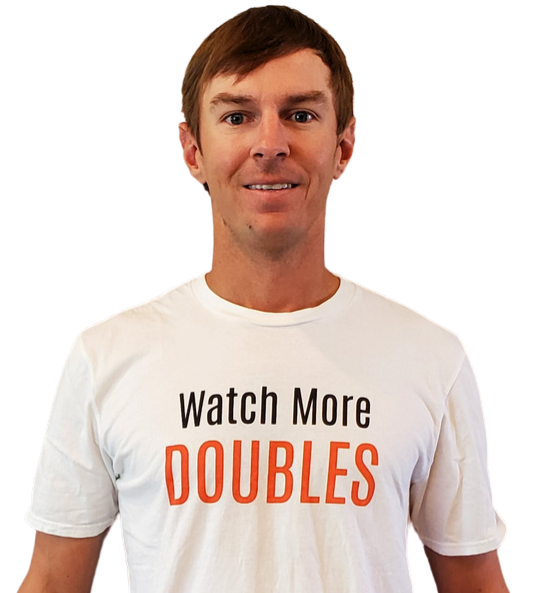 You're probably wondering why you should trust me to "coach" you. Fair question. Here's a little bit more about me.
ATP & WTA Doubles Strategy Analyst - I've worked with top 10 players on the ATP & WTA tours.
I've helped doubles teams win matches at Wimbledon, Australian Open, US Open, Roland Garros, Indian Wells, WTA Finals, & more.
Strategy Consultant for DI College Programs.
Over 20 years of experience playing and coaching tennis.
Former College Tennis Player, 4.5 Men's and Mixed Doubles Champion in Texas (2017).
I used these strategies to go 11-1 in 4.5 league in 2019, including 3-0 at USTA Nationals.
Currently, I have an NTRP 5.0 Rating.
Contributor for the Women's Tennis Blog.
Featured in Tennis Congress, Tennis View Magazine, & Ontario Tennis Magazine.
Writer & tennis data analyst for the Tennis Analytics blog
Guest on the Talk Tennis Podcast, Broudy Tennis Podcast, Tennis Files Podcast, Talking Tennis.
Presentations at Tennis Summit & Tennis Con 7 alongside other world-class coaches like Gigi Fernandez and more.
About The Tennis Tribe
I started Tennis Tribe in 2016 as a place to help myself and others improve their doubles game. Since then, it's grown to what it is today...

Over 100,000 visitors every month use Tennis Tribe to become better at tennis.
Over 3,500 people from around the world are signed up to our weekly doubles strategy newsletter.
Over 200,000 views on YouTube where I create video lessons.
Over 5,500 Instagram followers watch our weekly mini-lessons.
Over 12,000 monthly Doubles Only Podcast listeners.
100's of written, video, and podcast lessons published.
Frequently Asked Questions
When does the course start and finish?
It is a completely self-paced online course. You'll have full access after you purchase and can log back in to complete lessons at your own pace.
How long do I have access to the course?
You'll get access for life, including any future updates to the course.
What if I am unhappy with the course?
I guarantee you'll find the lessons in this course more valuable than any $60 or $80 private lesson at your local club... but if you don't, contact me in the first 30 days and I'll give you a full refund.